7 reasons for Neos Marmaras, Sithonia, Halkidiki, Greece summer holidays in 2023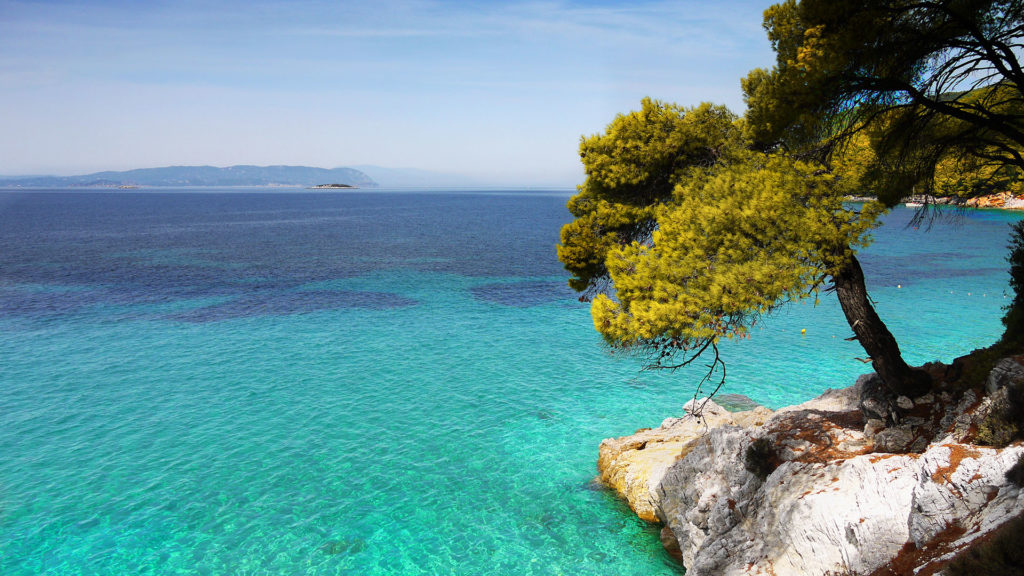 Halkidiki also spelt Chalkidiki, is a peninsula in Northern Greece. It is located not far from Thessaloniki on the Aegean Sea and consists of three so-called "fingers": Kassandra, Sithonia and the last one Athos. It is a great vacation destination. Halkidiki has amazing beaches, delicious food, beautiful sunsets and amazing locals who welcome every guest. There are plenty of reasons why you should visit this heaven on earth. Let start with the favourite one, and maybe the most popular, amazing and very green Sithonia. If you are on a beach vacation, you will love the area. Otherwise, if you are a nature lover, you will definitely fall in love with it. Sithonia is also very visited because of Porto Carras one of the largest and most famous hotels and holiday resorts. The resort of Porto Carras is near the traditional village of Neos Marmaras; a tourist destination, busy during the summer period, with many restaurants, cafeterias, and tourist shops. includes two major hotels, the 5-star Meliton and 4-star Sithonia as well as the bungalow style hotels Marina Village and Kalyva Mare. There are also 45,000 olive trees; basketball, football, tennis and golf sports areas as well as a vineyard covering an area of 475,000 m². Porto Carras is home to the biggest private marina in northern Greece, having berths for 315 boats. It also contains restaurants, a spa, interior and beach bars and a cinema theatre. This complex is indeed very big, so for those who want more private stays, Sithonia offers small hotels in each corner. Glaros is one of the favourite ones for tourists all around the world and the village is extremely busy during the summer period. Furthermore, A 120-acre verdant area in Sithonia, Chalkidiki has been the home of Armenistis camping & bungalows since 1982. So for camping lovers, there are plenty of choices. Camping Castello is just 3 km away from Neos Marmaras. A terrestrial paradise combining the natural landscape with crystal clear waters and a beautiful beach. The beach is in a shallow bay and has a delightful garden with palm trees and a boardwalk.
The campsite has organized the beach with sun-beds and umbrellas, a beach bar, restaurants, and endless varieties of sports and water sports facilities.
The beach comprised of sand and the sea bottom is a mix of pebble and sand. The water is shallow in this bay and a good recommendation for families. Overall this is a great little beach to relax on and the waters are quite calm to swim in.
Neos marmaras restaurants
Greek food spreads its culinary influence throughout Europe and beyond. It is known as one of the best food in the world! With an age-old tradition, Greek cuisine has been greatly influenced by both Eastern and Western cultures. Fresh vegetables, fishes & kinds of seafood play a significant role in the dishes mostly because of its long coastline while the meat is treated as less popular, except for lamb.
However, the flavours of Greek food change with season and geography. Here are some of the favourites not to miss when travelling through Greece.
The same is within Sithonia. Plenty of bars and restaurants every year ready for the summer guests. Like we mentioned before one of the largest villages in Neos Marmaras. The tavern we dream about during the winter is a must place for enjoying your meal after a hot day. Either you eat in your hotel either in some taverna, you can not make a mistake. Sometimes we just love to pick up our favourite gyros and enjoy in studios we rent. A not bad idea at all! As soon as you make a question regarding the food in Marmaras Sithonia, you will hear some words like Panos or Oregano, so don't hesitate to find them immediately. Finally the most popular in this special village is with no doubt seafood taverna restaurant "Ta Kymmata". Porto Carras also offers a big number of expensive restaurants where you can spend some special occasion.
Neos marmaras beach
Halkidiki beaches are the best ones in  Greece, but Sithonia wins the prize for the top beaches in Halkidiki. With about 100 beaches and most of them having perfect white sand, Sithonia is a beach paradise that is just starting to be discovered.
Let start with the city beach which is covered with white sand and it is perfect for games by the blue and awarded blue flag sea. It has a very long and wonderful beach considering that it is a city beach. Along this beach, there are trees that create natural shade during the day. It seems like a paradise, and there is one bar by the sea with the name Paradiso.
Let me add that inside of the Porto Carras resort they have preserved the trees which creates natural shade on the beach.
Neos marmaras hotels
So many types of rooms, studios, hotels you have at your disposal, that you will not be sure what choice to make.  In tourists' opinion, neos marmaras hotels are quite cheap and a good value for money.  Of course, if you move on furthermore Porto Carras Sithonia Halkidiki will surprise you because this place is for a little bit higher budget. sunset hotel is also very visited during the summer and just 10 meters from the sandy beach. Situated amongst the verdant landscape and the crystal waters of Paradissos Beach. Enjoying a seafront location at Neos Marmaras Beach, the area is also well known for the finest accommodation.  If you choose another village instead of Neos Marmaras, and Sithonia will amaze you.  Long beach lagomandra and the hotels in this beautiful place with endless green should be on the must list for your summer vacations. On the other side, Poseidon set only 0.2 km from Azapiko Beach. Very perfect for families and friends. Also when we speak about Sithonia, for sure you will hear very often about Vurvuru. Amazing, blue sea, white sand are perfect for calm holidays and romantic escapes. Only 5 kilometres south of Vourvourou there is a small stone beach that nobody visits. Also if you prefer nudism this will be an ideal solution for you.
Neos Marmaras is 77m above sea level. The climate is warm and temperate in Neos Marmaras. In Neos Marmaras, the average annual temperature is 16.2 °C | 61.2 °F. The rainfall here is around 552 mm | 21.7 inches per year. The Aegean sea with cristal clear waters and with the following average temperatures. In winter reaches 15°C, in spring 16°C, in summer the average temperature rises to 26°C, and in autumn it is 21°C.
Snow is very rare in halkidiki greece, of course, the previous winter this phenomenon surprised people who live in this area. As visitors, you can see in every moment the weather forecast of Marmaras Sithonia. Weather updates exist also in the port of marmaras greece.
As the heart of Sithonia, Neos Marmaras has plenty of things to do. It is a real challenge for tourists. The centre is crammed with restaurants, pizzerias, cafes and bars, and some of the best seafood tavernas in Sithonia. Shopping is without question the best in Sithonia. Neos Marmaras also has what seems to be an endless variety of shops that sell leather goods and furs.
Exploring the immediate area can also reveal some delights. The Porto Carras winery offers wine tasting. Greece's most famous 18-hole golf course is just minutes away. At the Porto Carras marina, you can charter a luxury yacht or take a scuba diving lesson. If you are getting tired of all these active possibilities, why not take the children and sit a bit as you ride the Neos Marmaras tourist train. We can guarantee you that Neos Marmaras can keep you on the move with all its attractions.
One of the coolest things for sure is a sea adventure with charterAyacht private sailboat trips https://yachts.holiday
It is a different experience to see the beach of Sithonia from the sea and make a stop at your favourite beach bar sithonia. Sailboat trips are a unique experience. However, you have the opportunity to make a series of trips and enjoy activities. Day trips to historical places such as Mount Olympus will be unforgettable for you. The next stop you may make is Vergina, the former capital of the Macedonian Kingdom, where the royal graves were discovered. During our tour, we will be able to admire the majesty of the royal graves of Fillip's 2nd, his 7th wife Kleopatra, as well as Alexander, 's the 4thson of Great Alexander and Roxana. The beauty and unique decoration of the royal graves in combination with the relicts of the Macedonian dynasty, which were discovered through the excavations, will make you travel back to history and feel the greatness of that period.
Paradise beach sithonia
According to tripadvisor Sitonia is one of the most beautiful places in Greece. With so many attractions Halkidiki should be on your must-visit list. So many beaches to meet and things to do places to see in marmaras halkidiki. A family-friendly place, but also very romantic at the same time for those who want to enjoy privacy. With so many bars and clubs in Porto Carras, you will make your vacations even more beautiful.
Lidl halkidiki
In Nikiti there are 4 big supermarkets which are well supplied, but even so, the Market that opens on Fridays is highly visited. The marketplace is large and the first thing you see are the stalls with fruit trees, vegetables and flowers, and then the stalls of fruit and vegetables are lined up towards the old Nikiti. In this part of the market, you can find various types of honey, fish, meat, cheese. If you visit Sithonia, don't miss olives. You must be aware that halkidiki olives are the most famous in Greece as well as olive oil. The biggest one is Lidl nikiti. All of them are usually situated on the main road, but it is easy to find even with a map. The same thing is Neos Marmaras. Generally speaking in sithonia you may find all the necessary things like in a big city.
Holidays to Sithonia Halkidiki
You will not regret it if you choose to spend your holidays in Sithonia Halkidiki. One of three fingers, actually kassandra and Sithonia are fantastic for each kind of vacation. The second finger Sithonia is perfect for families, while Kassandra is more for the youth. beaches, hotels, activities, clubs cover even the most difficult traveller.
So many excursions you can organize and a wonderful cruise to Mont Athos or a small boat trip to Turtle Island. Don't miss the beautiful village Sarti with a unique beach and small markets with souvenirs. Greeks say that there is no place on earth such as chalkidiki. So if you are going to Sithonia this summer, there are around 100 fantastic beaches to be enjoyed. Most have amazingly clear water and beautiful white sand!
The Blue Flag beaches are mainly located where there are plenty of tourists and enough facilities to maintain the beach. The Blue Flag means that you will have everything you need close by and guarantees a high standard of cleanliness. For the Halkidiki peninsula, there is now a total of 76 awarded Blue Flag beaches. Maybe the main reason is that except for all beauties the perfect location and the fact that is near to Thessaloniki makes this destination even more interesting for the visitors.
Booking Sithonia
booking sithonia for the following summer will be the right choice after long and difficult winter. Covid free destination Halkidiki will respond to all your demands. All kind of agencies or engines will help you with the booking. Search for neos marmaras real estate and make the best reservation. Solutions are plenty also through airbnb. Hotels, bungalows Halkidiki, sithonia hotels on the beach are some keywords that will help you in your research. The spot where is Halkidiki Greece is also perfect for boat rental sithonia. The must-see beach in Vourvourou will leave you speechless. Choose the best Sithonia hotels on the beach and you will have the vacation you deserve.